Instant rice
was a product
Nintendo
manufactured prior to entering the toy industry. In a desperate attempt to earn money, Nintendo launched various products that ultimately failed to make any profit. Instant rice was created in response to the overwhelming success of instant noodles. However, Nintendo's instant rice was apparently not very tasty, and thus was canceled.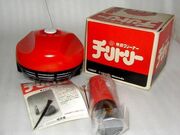 Ad blocker interference detected!
Wikia is a free-to-use site that makes money from advertising. We have a modified experience for viewers using ad blockers

Wikia is not accessible if you've made further modifications. Remove the custom ad blocker rule(s) and the page will load as expected.