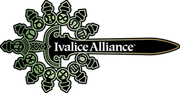 The
Ivalice Alliance
is a series of video games that take place in the
Final Fantasy series
. Each game takes place in
Ivalice
, which is unique as most games in the
Final Fantasy
series take place in distinct areas from each other. Many games took place in Ivalice before the alliance was created, and thus those games aren't officially part of the alliance.
Ivalice Alliance games
Other games that take place in the world of Ivalice include:
Final Fantasy Tactics - Playstation
Vagrant Story - Playstation
Final Fantasy XII - PlayStation 2
History
The Ivalice Alliance was announced on December 13 of 2006 when Square Enix reported that the already announced Revenant Wings would accompany a host of other games in a series of games called the Ivalice Alliance. These other games included Final Fantasy Tactics A2: Grimoire of the Rift for the Nintendo DS and The War of Lions for the PSP.
Ad blocker interference detected!
Wikia is a free-to-use site that makes money from advertising. We have a modified experience for viewers using ad blockers

Wikia is not accessible if you've made further modifications. Remove the custom ad blocker rule(s) and the page will load as expected.