This article is an orphan, as no other articles link to it. Please introduce links to this page from related articles.

As of: September 2013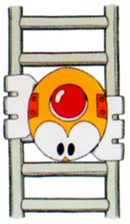 Jamacy is an enemy in Snake Man's stage and the Doc Robot Spark Man stage in Mega Man 3. They climb down the ladders to attack Mega Man and then later emerge from holes and scurry in the ground.