This page or section may need to be cleaned up due to improper organization of edits
This may include editing to correct spelling and grammar, and rewriting sections to ensure they are clear and concise.
This article is an orphan, as no other articles link to it. Please introduce links to this page from related articles.

As of: September 2013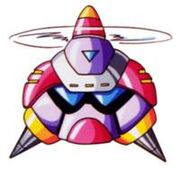 Jamminger is a Blader enemy that's more malicious than its classic counterpart in the Mega Man X series. It tries to hit X with its spikes and would laugh when it hits him, but will retreat after it didn't hit him.
Ad blocker interference detected!
Wikia is a free-to-use site that makes money from advertising. We have a modified experience for viewers using ad blockers

Wikia is not accessible if you've made further modifications. Remove the custom ad blocker rule(s) and the page will load as expected.