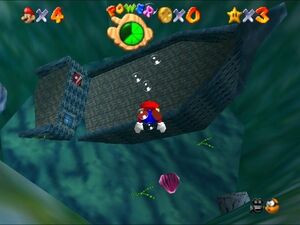 Jolly Roger Bay is a water course in the game Super Mario 64 and its remake.
In this world, there are Bob-omb Buddies, Goombas, a huge eel called Unagi who resides in a cave in the main circular area. There is also a sunken ship, and even a cave that leads to an area where Mario has to guess the treasure chests in the correct order to win a star.
Stars
Plunder in the Sunken Ship
Can the Eel Come Out to Play?
Treasure of the Ocean Cave
Red Coins on the Ship Afloat
Blast to the Stone Pillar
Through the Jet Stream
Switch Star of the Bay (Nintendo DS version exclusive)
External links
Ad blocker interference detected!
Wikia is a free-to-use site that makes money from advertising. We have a modified experience for viewers using ad blockers

Wikia is not accessible if you've made further modifications. Remove the custom ad blocker rule(s) and the page will load as expected.