This article is an orphan, as no other articles link to it. Please introduce links to this page from related articles.

As of: September 2013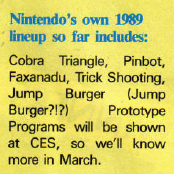 Jump Burger was a planned video game for the Nintendo Entertainment System that was canceled for an unknown reason. Nintendo was the publisher behind the title. It was briefly mentioned in Nintendo Power V4 in the "gossip" section of the magazine where the publishers made a brief list of upcoming titles, saying, "Nintendo's own 1989 lineup so far includes: Cobra Triangle, Pinbot, Faxanadu, Trick Shooting, Jump Burger (JUMP BURGER?!?). Prototype Programs will be shown at CES, so we'll know more in March."
Ad blocker interference detected!
Wikia is a free-to-use site that makes money from advertising. We have a modified experience for viewers using ad blockers

Wikia is not accessible if you've made further modifications. Remove the custom ad blocker rule(s) and the page will load as expected.