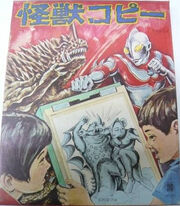 Kaju Copy (Monster Copy) is a toy Nintendo released in 1971. With it, users could place one of the ten available illustrations under the copier and produce an almost identical image of it. The toy featured popular licensed characters such as Ultraman.
Gallery
Ad blocker interference detected!
Wikia is a free-to-use site that makes money from advertising. We have a modified experience for viewers using ad blockers

Wikia is not accessible if you've made further modifications. Remove the custom ad blocker rule(s) and the page will load as expected.