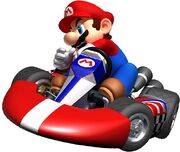 Karts are types of vehicles used in the Mario Kart series which racers must race in to go around the course. Every kart has its own stats and throughout the Mario Kart generations, the karts change with more shapes, more stats, etc. In Mario Kart: Double Dash‼, more than one kart can be selected and they all start gaining names. When the entire game is complete in Mario Kart DS, any kart can be selected for any player.
List of Karts
Mario
Luigi
Peach
Yoshi
Toad
Donkey Kong
Wario
Bowser
Daisy
Waluigi
See also: Bikes
Lightweight
Mediumweight
Heavyweight
Ad blocker interference detected!
Wikia is a free-to-use site that makes money from advertising. We have a modified experience for viewers using ad blockers

Wikia is not accessible if you've made further modifications. Remove the custom ad blocker rule(s) and the page will load as expected.