Ad blocker interference detected!
Wikia is a free-to-use site that makes money from advertising. We have a modified experience for viewers using ad blockers

Wikia is not accessible if you've made further modifications. Remove the custom ad blocker rule(s) and the page will load as expected.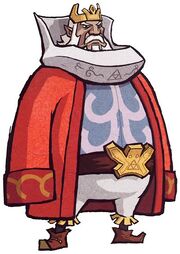 King of Hyrule
is the title of the monarchal ruler of
Hyrule
in
The Legend of Zelda
series. The king changes roles from game to game, and mostly plays the role of
Princess Zelda
's father.
Appearances
The Legend of Zelda: A Link to the Past
The unnamed king of A Link to the Past highly trusted the wizard Agahnim, who apparently killed him, as a crowned skeleton can be seen in the game's opening.
The Legend of Zelda: Ocarina of Time
The king of Ocarina of Time is mentioned only. Zelda talks about how Ganondorf is trying to gain his trust.
The Legend of Zelda: The Wind Waker
The Legend of Zelda: The Minish Cap
Two kings appear in The Minish Cap. King Daltus is the current ruler and Zelda's father. He was a fine swordsman in his youth, and fought his good friend Smith to a draw in one instance of the Picori Festival.
The other one is King Gustaf, an old king who appears as a ghost in the Royal Valley. He was quite fond of the Wind Tribe.
The Legend of Zelda (cartoon)
The King of Hyrule is named King Harkanian in the cartoon shown Fridays on The Super Mario Bros. Super Show! In the cartoon, he is shown to be somewhat absent minded.