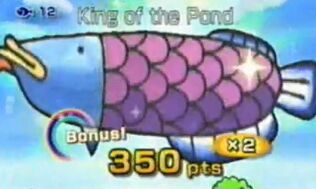 The King of the Pond is a fish that appears in the Wii video game Wii Play in the game Fishing. Collecting it makes you earn 350 points, or 700 points if they appear at the top of the screen. As its name suggests, it might actually be the king of the pond. It only appears in the game near the end.
Appearance
It has a blue face and purple scales. It also has blue fins and a red beard.

Ad blocker interference detected!
Wikia is a free-to-use site that makes money from advertising. We have a modified experience for viewers using ad blockers

Wikia is not accessible if you've made further modifications. Remove the custom ad blocker rule(s) and the page will load as expected.