Ad blocker interference detected!
Wikia is a free-to-use site that makes money from advertising. We have a modified experience for viewers using ad blockers

Wikia is not accessible if you've made further modifications. Remove the custom ad blocker rule(s) and the page will load as expected.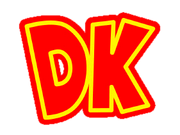 The Kong Family
is the name of all
Donkey Kong
's family and friends. Though some of the Kong Family isn't even related to Donkey Kong, they are considered
Kongs
. It is a sign of their union as a species, and clan. Once membership is earned, that ape is considered a Kong. They are always fighting the evil
Kremling Krew
, who is always stealing DK's
Banana Hoard
, or stealing other Kongs. They don't all appear in all the games, but in some games, most of them are playable or supporting.
Members of the Kong Family
DK's Family
Dixie's Family
Kong Friends
Banned Members