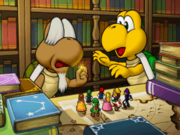 Koopa Krag
was a minor character in the story mode of
Mario Party DS
. He appeared on the Board
Kamek's Library
where
Kamek
had locked him in a book.
Story

He is first mentioned when Mario and co. find his grandchild who is desperately seeking help for Krag. After completing the Board, if you win Book Bash, Krag is released from the book and he presents the group with the fourth Sky Crystal.
Ad blocker interference detected!
Wikia is a free-to-use site that makes money from advertising. We have a modified experience for viewers using ad blockers

Wikia is not accessible if you've made further modifications. Remove the custom ad blocker rule(s) and the page will load as expected.