Ad blocker interference detected!
Wikia is a free-to-use site that makes money from advertising. We have a modified experience for viewers using ad blockers

Wikia is not accessible if you've made further modifications. Remove the custom ad blocker rule(s) and the page will load as expected.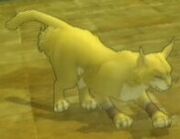 Laguz
are a fictional species in
Fire Emblem: Path of Radiance
for the
GameCube
and
Fire Emblem: Radiant Dawn
for the
Wii
. They are a species that can transform into both humans and animals. They are all separated into five different tribes - Beasts (cats and tigers), wolfs, dragons, hawks, and ravens. The wolfs Laguz was revealed in
Radiant Dawn
.
Notable Laguz