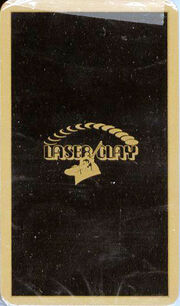 Laser Clay Shooting playing cards are Western playing cards Nintendo released. Presumably sold at Nintendo's Laser Clay Shooting ranges, the deck features unique face cards. The front of the box simply says "Laser Clay" and features a man holding a Laser Clay gun, aiming at a clay disk (this is thought to be the logo for the attraction as well).
Gallery
Ad blocker interference detected!
Wikia is a free-to-use site that makes money from advertising. We have a modified experience for viewers using ad blockers

Wikia is not accessible if you've made further modifications. Remove the custom ad blocker rule(s) and the page will load as expected.