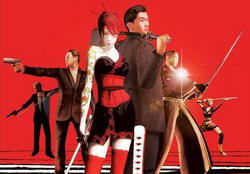 The following is a list of the characters in
Red Steel
.
Scott Monroe - Main playable character
Angel's Heaven goons
Angel's Heaven patron (in hot tub)
Angel's Heaven staff
Bill (barman at Harry's Club)
Bunta Fusaku (Sanro Kai member)
Dojo students
Dojo teachers
Dozan (Harry's Club)
Fish market workers
Fugu Yamada (Tokyo Harbor)
Fumi (janitor with mop at Harry's Club)
Funhouse goons
Geisha women
Goro (Geisha House)
Ichiro Kawaji (Tokai's father)
Inoue Makoto (Tokyo Harbor)
Kajima (weapons expert at Harry's Club)
Kenji (Dojo guard)
Kenzo Chiba (Business District)
Komori ninjas
Miss Reiko (Sanro Kai member)
Sasori (Geisha House)
Sasori's goons
Sato's men
Shinjuku District citizens
Takashi Ito (Sanro Kai member)
Tetsuo Misumi (funhouse)
Waste processing plant workers
Xtreme Wheels thugs
Yakuza thugs
Yukio Kitamura (Sanro Kai member)
(also see: Sanro Kai)
Ad blocker interference detected!
Wikia is a free-to-use site that makes money from advertising. We have a modified experience for viewers using ad blockers

Wikia is not accessible if you've made further modifications. Remove the custom ad blocker rule(s) and the page will load as expected.