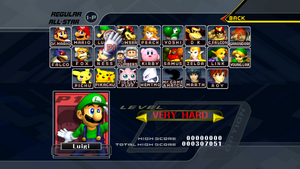 The following are a list of characters that were present in the best selling GameCube video game Super Smash Bros. Melee.
Default characters
Mario
Undeniably the most famous video game character, Mario is usually the first character that newcomers choose when playing the Super Smash Bros. series. He's an all around character with a good variety of special attacks. He was announced to be a playable character at E3 2001. Compared to others, Mario has a terrible recovery, though this is one of the only cons. Mario has one of the most impressive wave dashes, can easily rack up the enemies' damage, can wall jump, and has a cape that reflects objects and turns players around. Mario is involved in six missions, and five different color variations. His special moves consist of:
Donkey Kong

The king of Kongs returns to the brawl with an updated look.
Link
Samus Aran
Yoshi

Kirby

Fox McCloud
Pikachu

Ness
Captain Falcon
Bowser
Princess Peach
Ice Climbers
Princess Zelda

Sheik
Unlockable characters
Luigi

Jigglypuff
Mewtwo

Marth
Mr. Game & Watch
Dr. Mario
Ganondorf
Falco Lombardi
Young Link
Pichu
Pichu is one of the few playable Pokémon characters in the whole Super Smash Bros series., also one of the few to be taken out of Super Smash Bros. Brawl for Wii. Pichu was one of many clones, or copies of other characters. He was like Pikachu, Pichu was faster, was the lighest character in the game and it hurt itself. Pichu was a major distraction So they took it out.
B= Thunder jolt
UP B= Quick Attack
Down B= Thunder
Sideways B= Skull bash
Roy