Both Teenage Mutant Ninja Turtles and Shredder redirect to this article.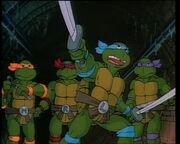 The Teenage Mutant Ninja Turtles are characters from comic books, animated TV series and films. There have been numerous videogames based on them and their adventures.
Leonardo, Donatello, Raphael, and Michelangelo are the four main turtle characters. Shredder, who has made an appearance in all the Turtles games, is the main villain. Shredder won the Nintendo Power Award for "Best Bad Guy" for his appearance in Teenage Mutant Ninja Turtles II: The Arcade Game in the 1990 Nintendo Power Awards. That same awards year, Teenage Mutant Ninja Turtles: Fall of the Foot Clan won "Best Overall Game Boy Game", making it the first Game Boy game in history to win a Nintendo Power Award.
Below is a list of Turtles games.
NES
Game Boy
Super Nintendo Entertainment System
Game Boy Advance
Nintendo GameCube
Nintendo DS
Wii
Nintendo 3DS
Virtual Console
Ad blocker interference detected!
Wikia is a free-to-use site that makes money from advertising. We have a modified experience for viewers using ad blockers

Wikia is not accessible if you've made further modifications. Remove the custom ad blocker rule(s) and the page will load as expected.