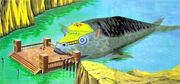 Lord Jabu-Jabu is a whale-like character featured in The Legend of Zelda: Ocarina of Time. In fact, he can even be considered a stage, as one of the game's dungeon's takes place in the gluttonous fish's body. He is a sort of guardian to the Zora species, who give him offerings of fish, resulting in his large size. In order to save Princess Ruto, Link must feed Jabu-Jabu an offering of fish in order to enter his body. Once saving the young Zora princess, Link will no longer need to see him. It has been speculated that Ganondorf killed Jabu-Jabu once he took over Hyrule, as seven years into the future Jabu-Jabu is no longer present in his water bed.
Ad blocker interference detected!
Wikia is a free-to-use site that makes money from advertising. We have a modified experience for viewers using ad blockers

Wikia is not accessible if you've made further modifications. Remove the custom ad blocker rule(s) and the page will load as expected.