Luigi's Mansion: Dark Moon



North American box art

Developer(s)
Next Level Games
Publisher(s)
Nintendo
Platform(s)
Classification(s)
 
Genre(s)
Action-adventure
Rating(s)
ESRB  PEGI  CERO  ACB

Credits • Gallery • Cheats & Hints • Videos
Luigi's Mansion: Dark Moon, in other regions known as Luigi Mansion 2, is a game for the Nintendo 3DS by Nintendo. Originally revealed under the title "Luigi's Mansion 2" at Nintendo's 2011 Electronic Entertainment Expo (E3) Press Conference, this game serves as the successor to the Nintendo GameCube launch title Luigi's Mansion. It is widely believed that the Nintendo 3DS was chosen for this sequel because the Nintendo GameCube was originally planned to be a 3D-enabled console, thus would've resulted in Luigi's Mansion being 3D. It is the third Mario game to only star Luigi. The first being Mario is Missing! and the second being Luigi's Mansion.
Gameplay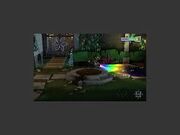 In this game, players controls Luigi in an attempt to complete missions assigned to him by Professor E. Gadd throughout multiple mansions while solving puzzles and capturing new ghosts with the Poltergust 5000, a ghost-sucking, vacuum-like invention, and a flashlight. The flashlight also seems to have a special upgrade or powerup. The ghosts in this game are different than the ones in the first one.
Story
The Story revolves around Luigi being hired by Professor E. Gadd to find the scattered shards of the Dark Moon around several different mansions. This ancient artifact was used by the professor to tame the ghosts and use them as extra hands. When it mysteriously shatters, however, the ghosts go rouge, making it imperative to restore the Dark Moon.
Characters
Ghosts
Common Ghosts
Bosses
Midbosses
Mansions
There are five "mansions" to beat in this game. The mansions are vastly different from each other, and a couple may not even be considered mansions in the traditional sense. Each mansion has five levels and boss level (an exception is the Secret Mine which only has three levels before the boss level). The fifth mansion is immediately followed by the final boss fight.
A-1 "Poltergust 5000"
A-2 "Gear Up"
A-3 "Quiet Please"
A-4 "Visual Tricks"
A-5 "Sticky Situation"
A-Boss "Confront The Source"
B-1 "A Job for a Plumber"
B-2 "The Pinwheel Gate"
B-3 "Graveyard Shift"
B-4 "Pool Party"
B-5 "Doggone Key"
B-Boss "Tree Topping"
C-1 "A Timely Entrance"
C-2 "Underground Expedition"
C-3 "Roundhouse Brawl"
C-4 "Play Catch"
C-5 "Piece at Last"
C-Boss "Showtime"
D-1 "Cold Case"
D-2 "Hit Rock Bottom"
D-3 "Across the Chasm"
D-Boss "Chilly Ride"
E-1 "Front-Door Key"
E-2 "Double Trouble"
E-3 "A Train to Catch"
E-4 "Ambush Maneuver"
E-5 "Paranormal Chaos"
E-Boss "Stop the Knightmare"
Final Boss "A Nightmare to Remember"
Trivia
On Miiverse, they set up a community for the game even though it's a game for 3DS. People there usually post a funny reaction of the thumbnail (which was Luigi screaming)
Reception
| | |
| --- | --- |
| Aggregator | Score |
| GameRankings | 86% (based on 43 reviews) |
| MetaCritic | 86 (based on 74 critic reviews) |
| Publication | Score |
| Edge | 8/10 |
| Electronic Gaming Monthly | 8.5/10 |
| Eurogamer | 9/10 |
| Famitsu | 35/40[1] |
| Game Informer | 8.5/10 |
| GameSpot | 6.5/10 |
| GamesRadar | 4/5 |
| GamesTM | 9/10 |
| GameTrailers | 9.3/10 |
| IGN | 9.3/10 |
| Nintendo World Report | 9.5/10 |
| Official Nintendo Magazine | 92/100 |
The game was received pretty well receiving a 86 on Metacritic and 85.86% on GameRankings. Famitsu gave it a 35 (9,9,8,9) out of 40.
In terms of sales, this game was also a success. On its first week of release in Japan, it sold 280,151 according to Media Create. In America, it sold about 360,000 in its launch month according to NPD making it to the 6th best selling game for the month of March in 2013. As of March 31, 2014, it sold 3.98 million worldwide with 1,008,146 being sold in Japan. In France, the game has sold about 393,251 since its launch.
Videos
References
See also
External links
Ad blocker interference detected!
Wikia is a free-to-use site that makes money from advertising. We have a modified experience for viewers using ad blockers

Wikia is not accessible if you've made further modifications. Remove the custom ad blocker rule(s) and the page will load as expected.