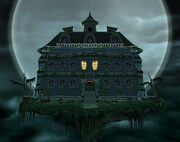 Luigi's Mansion is a stage in Super Smash Bros. Brawl. This is a stage based off of the game Luigi's Mansion. The player can destroy the pillars in the house to make it fall to the ground.
Origin
Luigi's Mansion is the setting of the GameCube game of the same name. Luigi won this mansion through a contest he supposedly didn't even enter. Upon entering he eventually comes to realize that ghosts have taken over the mansion and have kidnapped his twin brother Mario. By destroying the supports in Brawl's version, Boos will be released. Several rooms from the original game, including the foyer and the nursery, appear in this game. Haunted mansions have been a common staple in the Mario series, appearing in Paper Mario, Super Mario 64, Super Mario World, Mario Party and others. The mansion and the surrounding Boo woods also appears in Mario Kart DS, Mario Kart: Double Dash‼, Mario Hoops: 3-on-3, Mario Power Tennis and Mario & Luigi: Partners in Time.
Boo
When the player destroys a portion of the mansion, a multitude of Boos will be released and then suddenly disappear (to see this occur, be sure to press pause at just the right moment after destroying part of the building). Boos first appeared in Super Mario Bros. 3 and are said to be based off of series veteran Takashi Tezuka's wife, who, like Boos, happens to be shy. In Luigi's Mansion, there were fifty Boos scattered across the mansion that Luigi had to suck in using his Poltergust 3000, where he would then be allowed to face King Boo.
Trophy description
"A big, creepy mansion in the heart of a gloomy forest. It was given to Luigi, who found its many rooms (including a dining room, kitchen, rec room, projection room, music room, and tea room) were infested with ghosts. Luigi was supposed to meet Mario here, but his bro went missing. Not known for his bravery, Luigi gathered his courage and set out to explore his new home."
Ad blocker interference detected!
Wikia is a free-to-use site that makes money from advertising. We have a modified experience for viewers using ad blockers

Wikia is not accessible if you've made further modifications. Remove the custom ad blocker rule(s) and the page will load as expected.