Luigi's Mansion: Dark Moon
Talk

0
11,639pages on
this wiki
Luigi's Mansion: Dark Moon, in other regions known as Luigi Mansion 2, is a game for the Nintendo 3DS by Nintendo. Originally revealed under the title "Luigi's Mansion 2" at Nintendo's 2011 Electronic Entertainment Expo (E3) Press Conference, this game serves as the successor to the Nintendo GameCube launch title Luigi's Mansion. It is widely believed that the Nintendo 3DS was chosen for this sequel because the Nintendo GameCube was originally planned to be a 3D-enabled console, thus would've resulted in Luigi's Mansion being 3D.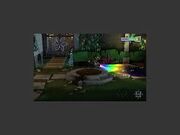 In this game, players controls Luigi in an attempt to complete missions assigned to him by Professor E. Gadd throughout multiple mansions while solving puzzles and capturing new ghosts with the Poltergust 5000, a ghost-sucking, vacuum-like invention, and a flashlight. The flashlight also seems to have a special upgrade or powerup. The ghosts in this game are different than the ones in the first one.
The Story revolves around Luigi being hired by Professor E. Gadd to find the scattered shards of the Dark Moon around several different mansions. This ancient artifact was used by the professor to tame the ghosts and use them as extra hands. When it mysteriously shatters, however, the ghosts go rouge, making it imperative to restore the Dark Moon.
Characters
Edit
Midbosses
Edit
As previously noted this game will include many mansions, as opposed to the one of the first game. The known mansions at this time are:
A-1 "Poltergust 5000"
A-2 "Gear Up"
A-3 "Quiet Please"
A-4 "Visual Tricks"
A-5 "Sticky Situation"
A-Boss "Confront The Source"
B-1 "A Job for a Plumber"
B-2 "The Pinwheel Gate"
B-3 "Graveyard Shift"
B-4 "Pool Party"
B-5 "Doggone Key"
B-Boss "Tree Topping"
C-1 "A Timely Entrance"
C-2 "Underground Expedition"
C-3 "Roundhouse Brawl"
C-4 "Play Catch"
C-5 "Piece at Last"
C-Boss "Showtime"
Reception
Edit
| | |
| --- | --- |
| Aggregator | Score |
| GameRankings | 85.81% (based on 37 reviews) |
| MetaCritic | 86 (based on 63 critic reviews) |
| Publication | Score |
| Edge | 8/10 |
| Electronic Gaming Monthly | 8.5/10 |
| Eurogamer | 9/10 |
| Famitsu | 35/40[1] |
| Game Informer | 8.5/10 |
| GameSpot | 6.5/10 |
| GamesRadar | 4/5 |
| GamesTM | 9/10 |
| GameTrailers | 9.3/10 |
| IGN | 9.3/10 |
| Nintendo World Report | 9.5/10 |
| Official Nintendo Magazine | 92/100 |
References
Edit
External links
Edit