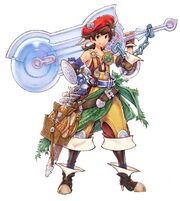 Luso is the main character in Final Fantasy Tactics A2: Grimoire of the Rift. He is mischievous and gets in trouble often. He is transported to the world of Ivalice after writing his name in a mysterious book with no words and joins Clan Gully. He learns that to go back home, he has to go to new places and see things to fill his self-keeping journal, called a Grimoire. He is somewhat gullible and quick to trust Vaan and Penelo.
Ad blocker interference detected!
Wikia is a free-to-use site that makes money from advertising. We have a modified experience for viewers using ad blockers

Wikia is not accessible if you've made further modifications. Remove the custom ad blocker rule(s) and the page will load as expected.