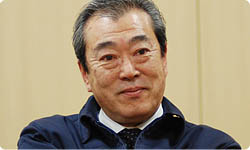 Makoto Kanoh
was a
Nintendo
employee born on October 30,
1950
in Kyoto,
Japan
,and joined Nintendo in
1972
. He was heavily involved in the
Metroid series
. Some of the projects he's worked on at Nintendo include
Super Metroid
, the
Super Scope
for the
Super Nintendo Entertainment System
, and
Mario & Wario
. Two of his favorite movies are
Field of Dreams
and
Dances with Wolves
. According to Kano Makoto, he managed to complete
Super Metroid
in a fairly unimpressive 4 hours 38 minutes. Of all the employees who completed the game, it took Makoto the longest to complete this goal. His last game he was credited in was
Mario Party-e
for the
e-Reader
,but he still works at nintendo as a advisor to young staff.
Works
Pokemon Stadium 2 (Nintendo 64 / 2000) - Artwork
Teleroboxer (Virtual Boy / 1995) - Artwork
Sound Fantasy (Super Famicom / 1994) - Producer
Super Metroid (Super Nintendo / 1993) - Producer
Mario & Wario (Super Famicom / 1993) - Producer
Yoshi's Egg (Game Boy / 1992) - Producer
Kaeru no Tame ni Kane wa Naru (Game Boy / 1992) - Producer
Battle Clash (Super Nintendo / 1992) - Producer
Super Scope 6 (Super Nintendo / 1992) - Producer
Super Mario Land 2: Six Golden Coins (Game Boy / 1992) - Graphic Design
Metroid 2: Return of Samus (Game Boy / 1991) - Graphic Design
Famicom Wars (Famicom / 1988) - Concept Design
Metroid (Nintendo Entertainment System / 1986) - Concept Design
Rob The Robot (Hardware / 1985) - Industrial Design
Game & Watch: Spitball Sparky (Game & Watch / 1984) - Graphic Design
Game & Watch: Crab Grab (Game & Watch / 1984) - Graphic Design
Game & Watch: Mario Bros. (Game & Watch / 1983) - Graphic Design
Game & Watch: Mario's Cement Factory (Game & Watch / 1983) - Graphic Design
Game & Watch: Rain Shower (Game & Watch / 1983) - Graphic Design
Game & Watch: Lifeboat (Game & Watch / 1983) - Graphic Design
Game & Watch: Mario's Bombs Away (Game & Watch / 1983) - Graphic Design
Game & Watch: Pinball (Game & Watch / 1983) - Graphic Design
Game & Watch: Greenhouse (Game & Watch / 1982) - Graphic Design
Game & Watch: Donkey Kong Jr. (Game & Watch / 1982) - Graphic Design
Game & Watch: Donkey Kong (Game & Watch / 1982) - Graphic Design
Game & Watch: Oil Panic (Game & Watch / 1982) - Graphic Design
Game & Watch: Snoopy Tennis (Game & Watch / 1982) - Graphic Design
Game & Watch: Fire Attack (Game & Watch / 1982) - Graphic Design
Game & Watch: Turtle Bridge (Game & Watch / 1982 - Graphic Design
Game & Watch: Mickey Mouse (Game & Watch / 1981) - Graphic Design
Game & Watch: Egg (Game & Watch / 1981) - Graphic Design
Game & Watch: Chef (Game & Watch / 1981) - Graphic Design
Game & Watch: Parachute (Game & Watch / 1981) - Graphic Design
Game & Watch: Octopus (Game & Watch / 1981) - Graphic Design
Game & Watch: Popeye (Game & Watch / 1981) - Graphic Design
Game & Watch: Lion (Game & Watch / 1981) - Graphic Design
Game & Watch: Manhole (Game & Watch / 1981) - Graphic Design
Game & Watch: Judge (Game & Watch / 1980) - Graphic Design
Game & Watch: Fire (Game & Watch / 1980) - Graphic Design
Game & Watch: Vermin (Game & Watch / 1980) - Graphic Design
Game & Watch: Flagman (Game & Watch / 1980) - Graphic Design
Game & Watch: Ball (Game & Watch / 1980) - Graphic Design
Nintendo Beam Gun (Hardware / 1975) - Industrial Design