Ad blocker interference detected!
Wikia is a free-to-use site that makes money from advertising. We have a modified experience for viewers using ad blockers

Wikia is not accessible if you've made further modifications. Remove the custom ad blocker rule(s) and the page will load as expected.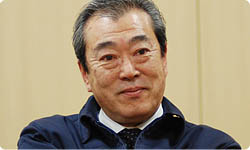 Makoto Kanoh
was a
Nintendo
employee born on October 30,
1950
in Kyoto,
Japan
,and joined Nintendo in
1972
. He was heavily involved in the
Metroid series
. Some of the projects he's worked on at Nintendo include
Super Metroid
, the
Super Scope
for the
Super Nintendo Entertainment System
, and
Mario & Wario
. Two of his favorite movies are
Field of Dreams
and
Dances with Wolves
. According to Kano Makoto, he managed to complete
Super Metroid
in a fairly unimpressive 4 hours 38 minutes. Of all the employees who completed the game, it took Makoto the longest to complete this goal. His last game he was credited in was
Mario Party-e
for the
e-Reader
,but he still works at nintendo as a advisor to young staff.
Works
Pokemon Stadium 2 (Nintendo 64 / 2000) - Artwork
Teleroboxer (Virtual Boy / 1995) - Artwork
Sound Fantasy (Super Famicom / 1994) - Producer
Super Metroid (Super Nintendo / 1993) - Producer
Mario & Wario (Super Famicom / 1993) - Producer
Yoshi's Egg (Game Boy / 1992) - Producer
Kaeru no Tame ni Kane wa Naru (Game Boy / 1992) - Producer
Battle Clash (Super Nintendo / 1992) - Producer
Super Scope 6 (Super Nintendo / 1992) - Producer
Super Mario Land 2: Six Golden Coins (Game Boy / 1992) - Graphic Design
Metroid 2: Return of Samus (Game Boy / 1991) - Graphic Design
Famicom Wars (Famicom / 1988) - Concept Design
Metroid (Nintendo Entertainment System / 1986) - Concept Design
Rob The Robot (Hardware / 1985) - Industrial Design
Game & Watch: Spitball Sparky (Game & Watch / 1984) - Graphic Design
Game & Watch: Crab Grab (Game & Watch / 1984) - Graphic Design
Game & Watch: Mario Bros. (Game & Watch / 1983) - Graphic Design
Game & Watch: Mario's Cement Factory (Game & Watch / 1983) - Graphic Design
Game & Watch: Rain Shower (Game & Watch / 1983) - Graphic Design
Game & Watch: Lifeboat (Game & Watch / 1983) - Graphic Design
Game & Watch: Mario's Bombs Away (Game & Watch / 1983) - Graphic Design
Game & Watch: Pinball (Game & Watch / 1983) - Graphic Design
Game & Watch: Greenhouse (Game & Watch / 1982) - Graphic Design
Game & Watch: Donkey Kong Jr. (Game & Watch / 1982) - Graphic Design
Game & Watch: Donkey Kong (Game & Watch / 1982) - Graphic Design
Game & Watch: Oil Panic (Game & Watch / 1982) - Graphic Design
Game & Watch: Snoopy Tennis (Game & Watch / 1982) - Graphic Design
Game & Watch: Fire Attack (Game & Watch / 1982) - Graphic Design
Game & Watch: Turtle Bridge (Game & Watch / 1982 - Graphic Design
Game & Watch: Mickey Mouse (Game & Watch / 1981) - Graphic Design
Game & Watch: Egg (Game & Watch / 1981) - Graphic Design
Game & Watch: Chef (Game & Watch / 1981) - Graphic Design
Game & Watch: Parachute (Game & Watch / 1981) - Graphic Design
Game & Watch: Octopus (Game & Watch / 1981) - Graphic Design
Game & Watch: Popeye (Game & Watch / 1981) - Graphic Design
Game & Watch: Lion (Game & Watch / 1981) - Graphic Design
Game & Watch: Manhole (Game & Watch / 1981) - Graphic Design
Game & Watch: Judge (Game & Watch / 1980) - Graphic Design
Game & Watch: Fire (Game & Watch / 1980) - Graphic Design
Game & Watch: Vermin (Game & Watch / 1980) - Graphic Design
Game & Watch: Flagman (Game & Watch / 1980) - Graphic Design
Game & Watch: Ball (Game & Watch / 1980) - Graphic Design
Nintendo Beam Gun (Hardware / 1975) - Industrial Design