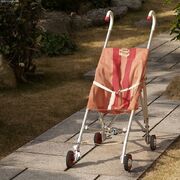 Mamaberika was a Nintendo manufactured product released in 1965. A B-type baby stroller, it was very light weight and cost 890 yen. At the time of its release, Nintendo was still a small company who was best known for their playing cards. The stroller, like most of their products, ended in failure. It wasn't until later in the sixties would Nintendo find success in the toy industry.
Many parents complained that the stroller would pinch them when folding it.
Gallery
External links
Ad blocker interference detected!
Wikia is a free-to-use site that makes money from advertising. We have a modified experience for viewers using ad blockers

Wikia is not accessible if you've made further modifications. Remove the custom ad blocker rule(s) and the page will load as expected.