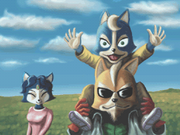 The son of Fox McCloud and Krystal, it is unknown whether or not Marcus exists. He has Fox's body, but inherits his mother's blue fur and eyes. After the defeat of the Anglers, Fox and Krystal eventually got married and had a son. Marcus also inherits his father's and his grandfather's flying skill, which is "unbelievable". Wanting to follow in his father's footsteps, he joined the Cornerian Flight Academy when he was old enough.
Goodbye, Fox
After Graduation
After Marcus graduates, he re-forms the Star Fox Team using Peppy's granddaughter, Slippy's son, and even is able to track down the legendary Falco Lombardi, part of Fox's team. They keep peace wherever threatened.
Ad blocker interference detected!
Wikia is a free-to-use site that makes money from advertising. We have a modified experience for viewers using ad blockers

Wikia is not accessible if you've made further modifications. Remove the custom ad blocker rule(s) and the page will load as expected.