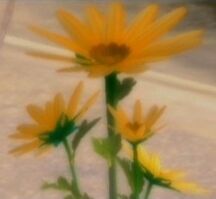 The Margaret is a common plant found in Pikmin 2 for the Nintendo GameCube. You could very easily mistaken it for a Creeping Chrysanthemum, the only difference is that there is no eyes on this type. They don't effect gameplay, but Honeywisp and Unmarked Spectralids can be found in these. These are in the Chrysanthemum family. One of these can be seen in the Distant Planet stage in Super Smash Bros. Brawl for the Wii.
Notes
Olimar's notes
"This plant's delicate yellow flowers often inspire waves of nostalgia, giving a bittersweet feeling to any who gaze upon them."
Louie's notes
"Can be eaten fresh out of the soil, but it's much more flavorful when incorporated into a heavenly veggie lasagna."
Ad blocker interference detected!
Wikia is a free-to-use site that makes money from advertising. We have a modified experience for viewers using ad blockers

Wikia is not accessible if you've made further modifications. Remove the custom ad blocker rule(s) and the page will load as expected.