Mario Kart Arcade GP



Artwork

Developer(s)
Nintendo
Namco
Publisher(s)
Nintendo (JP)
Namco (NA)

                   Release Date(s)

---

| | |
| --- | --- |
|                JP:  | December 8, 2005 |

Platform(s)
Genre(s)
Racing

Credits • Gallery • Cheats & Hints • Videos
Mario Kart Arcade GP is a game for the Arcade that was made by Namco in 2005. It is the 5th game in the Mario Kart Series and features new characters such as Pac-Man and Ms. Pac-Man. It also features a camera, that will take your picture, than add Mario items such as a Mario hat to your face depending on which character you choose. Mario Kart Arcade is also the Mario Kart Game with the most items.
Characters
Items
Triple Shell
Triple Basin
Triple Boo
Triple Square
Triple Needle
Triple Pen
Triple Tornado
Triple Black Shell
Triple Smoke
Triple Tack
Triple Pie
Gallery
Videos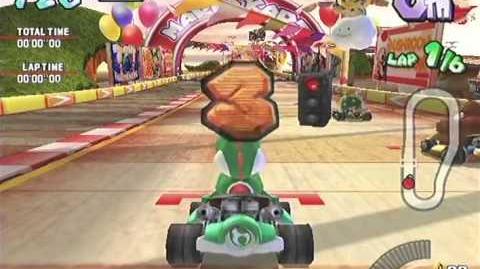 Changes
You can now take a picture of yourself with the Namcam and it puts it in the game*
You can now play as Pac-Man, Ms. Pac-Man, and Blinky**
There's over 100 items**
You can only use 3 of the 100 items**

You can determine which items you can use by playing slots before the race**

Item boxes are replaced with item hexes**
Some cabnents feature a data card slot and dispenser**)
(*This feature was used in this game only)
(**This feature was also used in Mario Kart Arcade GP 2)