Mario Party 8
Talk

0
12,544pages on
this wiki
Mario Party 8



North American box art

Developer(s)
Hudson
Publisher(s)
Nintendo
Platform(s)
Classification(s)
Genre(s)
Party
Rating(s)
ESRB  PEGI  CERO  USK  ACB

Credits • Gallery • Cheats & Hints • Videos
Mario Party 8
(マリオパーティ
JP
) is the tenth game in the
series
(eleventh in Japan) and the first to be released on the
Wii
.
Playable Characters
Game Modes
Party Tent

This Tent is the mode to party on the boards. After completing a match in this mode, you can get cards to buy items from the Fun Bazaar.
Star Battle Arena
In this single-player mode, you battle across all the stages competing against other players to win a lifetime supply of candy. When you do the stage, Bowser's Warped Orbit, you battle against one of the characters that are locked and once you beat them, they are unlocked. Finishing this mode gives you 200 Cards.
Minigame Tent
You can play any of the minigames you have unlocked in the party boards here. You can choose the Free Play Arcade or other games to play the minigames you unlocked, Tic-Tac Drop for example.
Extras Zone
The extras zone is where you can play minigames that you can't usually play during Mario Party 8. To unlock these minigames you have to buy them in the Fun Bazaar. Each minigame is worth 50 carnival cards. Here in the Extras zone you can play as your Mii or as one of the Mario Characters.
Fun Bazaar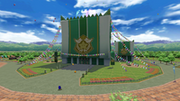 The Fun Bazaar is the tall dark green building on the map of Mario Party 8. Before you go in you have to select a character to be (any Mario character). In the Fun Bazaar you go to the Shop, the Sound machine, The figures parade, the minigame Store, and the credits board. In the shop you can buy minigames, sounds, figures that move, and lots of other things.
Mini-Games
Note: There are 73 minigames, more minigames than others until its successor is released in 1 March 2012. You can also see it in List of Mario Party 8 minigames.
Boards
Recall
The original release for the game in the United Kingdom was June 22, 2007 and then pushed back a little later into July 13, 2007. However, this game was recalled before it's newer release in the United Kingdom. Nintendo states that it was because of an assembly error, but some people report that it was recalled because it contained the word "spastic" which is considered a highly offensive word in the United Kingdom. The same thing happened to another game called Mind Quiz: Your Brain Coach one month before for the same reason. This game was finally released on August 3, 2007 in the United Kingdom, replacing "spastic" with "erratic" instead.
Trivia
The guy with the hat who is the host for all events' name is MC Ballyhoo.