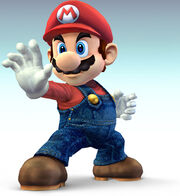 The
Mario
series is probably referenced most in the
Super Smash Bros.
series. There are plenty of characters, items, stages, trophies and others that come directly from the
Mario
series, and everything will be listed here.
Super Smash Bros.
Super Smash Bros. clearly represents the Mario series more so than any of the other franchises in the game. Well, possibly - it may be on par with the Pokémon video games. Two playable characters, two stages, and a whole bunch of items the player can use offensively or defensively.
Characters
Mario and Luigi are the only playable characters from the Mario series, though it should be noted that Yoshi and Donkey Kong started their series in Mario video games despite having their own emblem.
Stages
Items
Super Smash Bros. Melee
Characters
Peach and Bowser joined in Melee. Luigi was kept a secret character, and Dr. Mario was also unlockable, though he was very similar to Mario.
Stages
Items
Trophies
Other
Melee introduced Giga Bowser, a giant form of Mario's main antagonist:Bowser, who was used as a boss in Adventure mode, and in an Event Match
Super Smash Bros. Brawl
Brawl included far more of the Mario series than ever before. There were more trophies, Stickers were introduced, and new stages were brought in.
Characters
Wario was also introduced, but represented the WarioWare series rather than Mario
Stages
Items
Trophies
Stickers
CD's
Other
Franchises referenced in the Super Smash Bros. series
Introduced in Super Smash Bros.