Mark Sheppard is an actor and voice actor for film, television and video games. He is possibly best known for recurring roles in the TV series' Supernatural, Battlestar Galactica and Leverage. Video gamers and Nintendo fans know him as the voice of the playable character and protagonist Michael Ford in the Wii game The Conduit. He did not reprise the role in Conduit 2.
His father is well-known voice actor W. Morgan Sheppard, who also supplied voice work for The Conduit.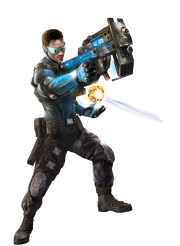 Ad blocker interference detected!
Wikia is a free-to-use site that makes money from advertising. We have a modified experience for viewers using ad blockers

Wikia is not accessible if you've made further modifications. Remove the custom ad blocker rule(s) and the page will load as expected.