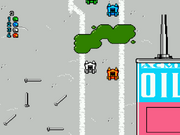 Micro Machines was a game released to the NES and licensed by Galoob. It was based on the popular toyline of the same name.
Gameplay
Various different races involving small toy cars were provided, including speedboat and car racing.
Visuals
The Micro Machines logo is displayed throughout the menus, but the cars themselves do not resemble the original toys.