Microsoft is Nintendo's second biggest competition along with Sony. As well as making computers, Microsoft also made the Xbox line of video game consoles. They are also the owners of one of the biggest IPs this century, Minecraft.
Xbox

The Xbox was released in 2001 along side with the GameCube and the PlayStation 2. It had a green user interface. Before the actual Xbox was released, rumors were going around that the Xbox would feature a stripped version of Windows 2000, but apparently it didn't. The Xbox also used to have a big controller until the controller S (stands for slim) was released a year later.
Xbox 360

The Xbox 360 was first seen at E3 2005 and later released in November that year. The controller is wireless and requires two AA batteries for power. The Xbox 360 also has avatars similar to Miis, but with a different appearance and purpose. A slim black model of the Xbox 360 called the Xbox 360 S was released in 2010 but had the same controller.
Kinect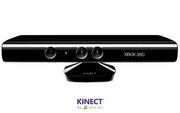 Kinect is a motion accessory for the Xbox 360 that sits on top of your TV without a controller. It works with all models of the Xbox 360, but requires a specially-made adaptor if used with the original model. It was released in 2011.
Xbox One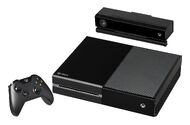 The Xbox One was released in November 2013 alongside the Wii U and PlayStation 4 It features a new user interface, a new controller, and many new features as well. In summer 2016, a smaller model named the Xbox One S was released. The S version can display 4k video, but the original model cannot.
Logos