Munchlax (ゴンベ, Gonbe) is a species of Pokémon in the series of the same name. It is a Normal type baby Pokémon that made its first appearance in the Fourth generation games Diamond and Pearl.
Physiology and Behaviour
Appearances
Main Pokémon games
Other Pokémon games
In Pokémon XD: Gale of Darkness, a Munchlax was featured in the game, as somewhat of an easter egg. Occasionally, a Munchlax will start eating the Poké Food placed on the Poké Spots. The very instant the player finds Munchlax, its trainer will appear, and apologize to the player, giving him the amount of Poké Food that Munchlax ate, as well as a random Herb. This happens constantly throughout the game.
A Munchlax is also a playable character in the Pokémon games Pokémon Mystery Dungeon: Explorers of Time and Explorers of Darkness.
Super Smash Bros. series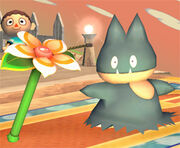 Munchlax will also appear as a Poké Ball Pokémon in Super Smash Bros. Brawl. When released from the Poké Ball, it will walk around the stage, eating any item it gets its hands on. Doing this stops other players from collecting the item themselves, which they could have used to attack the opponent. The biggest concern, is if Munchlax eats a very important item, such as the Smash Ball, which allows the player who collects it to use the Final Smash.
Trophy descriptions
In the anime
Origin and inspiration
In-game information
Pokédex entries
Game locations
Evolution
Base Stats
Base Stats

HP
135
Attack
85
Defense
40
Sp. Attack
40
Sp. Defense
85
Speed
5
Average
65
Moveset
Gallery
Sprites