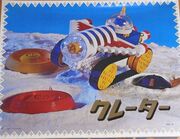 N&B Crator is an N&B Block set released by Nintendo. Players were required to build a vehicle using N&B blocks. The vehicle was mechanical and could roam around a room. Each set came packaged with three mines. It was revealed through a patent (a portion of which can be seen in the image to the right) that the N&B Crator's mines were created by legendary Nintendo designer Gunpei Yokoi. When the land rover roams over the mine, the upper portion springs up and causes the rover to flip. A commercial for the N&B Crator was released that showed the rover driving over books and ultimately being flipped by a red mine.
Gallery
Ad blocker interference detected!
Wikia is a free-to-use site that makes money from advertising. We have a modified experience for viewers using ad blockers

Wikia is not accessible if you've made further modifications. Remove the custom ad blocker rule(s) and the page will load as expected.