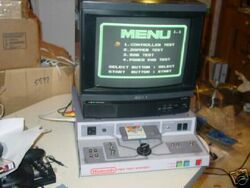 The NES Test Station was a Nintendo Entertainment System testing machine made by Nintendo in 1988 with the ability to test games, accessories and hook-ups. The device only appeared at World of Nintendo retailers and was used by employees to test customers' Nintendo Entertainment System accessories. The three main buttons on the front side of it are 'AV/RF' (green), 'Reset' (blue), and 'Power' (red) from left to right.
Design
The unit itself is very large, weighing almost forty pounds, and securely hooks up to the television through both AV Cables and RF Switch in one wire. The user can choose which output to use for gameplay by pressing the RF/AV for Audio/Video Cable connection, or leave the device without a touch for RF Switch connection. The television it's hooked up to (normally nine inches) is meant to be placed on top of it.
Testing
When the system is turned on, you have the option to select either the AC Adapter, Game Pak, Accessories (which include the controller, Zapper, R.O.B., or Power Pad), Control Deck, Audio/Video Cables, and RF Switch with a black knob and they will be tested. The testing simply displays the selected output's results as either "Pass" or "Fail".[1]
References