NHL Slapshot hockey stick



Manufacturer
EA Sports
Released
September 7, 2010
The NHL Slapshot hockey stick peripheral is an accessory for the Wii that is used with EA Sports' NHL Slapshot.
The Wii accessory was released with the NHL Slapshot bundle, but can also be purchased separately.
The Wii Remote snaps into the shaft of the stick and the Nunchuk snaps into the butt-end of the stick. The stick can then be held as if it were a real hockey stick, allowing the player to make much more realistic movements when passing and shooting in the game.
The box art for the NHL Slapshot bundle shows hockey legend Wayne Gretzky using the peripheral.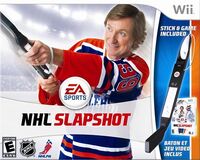 Ad blocker interference detected!
Wikia is a free-to-use site that makes money from advertising. We have a modified experience for viewers using ad blockers

Wikia is not accessible if you've made further modifications. Remove the custom ad blocker rule(s) and the page will load as expected.