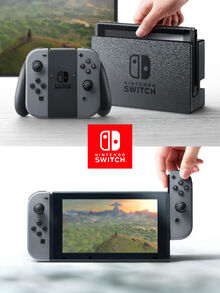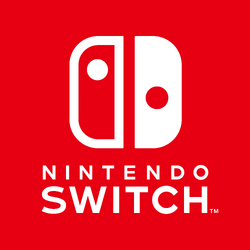 The Nintendo Switch is an upcoming ninth generation dedicated game platform developed by Nintendo. During the reveal of their partnership with DeNA, Satoru Iwata revealed that this device, then codenamed "NX". The Switch is a portable system which can be docked for home play, effectively hybridizing home consoles and handhelds. Joy-Con Controllers can attached to the system to work like a GamePad or used separately for multiplayer. The system is cartridge-based, storing physical copies of games on Game Cards like the Nintendo DS and Nintendo 3DS lines; while continuing this tradition for handhelds, it notably breaks the trend of home consoles storing games on discs.
Features
Development
On October 16, 2015, the Nintendo Development Kits for the NX were confirmed to be distributed to various publishers. This confirmed that the NX is succeeding the Wii U and 3DS and is coming out in multiple formats. There seems to be a massive boost in making them developer friendly with development portal at developer.nintendo.com with the Nintendo Dev Interface.
On April 27, 2016, Nintendo confirmed a March 2017 release with The Legend of Zelda as a launch title. Additionally, they said that the NX will not be at E3 2016.
Nintendo has chosen not to give much information about the console due to concerns over industrial espionage; as a result, an overwhelming majority of the NX's publicity has focused on unconfirmed rumors and speculation. The information Nintendo has provided clarifies that the NX will not truly succeed the Wii U or the 3DS and that games will still be developed for the latter two consoles, as it would be impractical to discontinue both. Additionally, Nintendo president Tatsumi Kimishima confirmed during a Q & A session following E3 2016 that Nintendo has been doing research on virtual reality.
On October 20, 2016, Nintendo released their official preview trailer for the console after months of little to no information; this trailer showcased the variety of ways that the NX, now referred to by its current official name of the "Nintendo Switch", can be played; particular emphasis was placed on its handheld capabilities, while still showcasing the ability to use it as a home console.
Confirmed titles
Trivia
Gallery
Videos
References
External Links