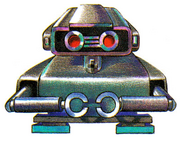 Nav-Com is a character in the Nintendo Entertainment System video game StarTropics. He is a robot invented by Dr. Jones who appears on the Sub-C, Mike Jones' ship. He helps Mike pilot the ship and has been programmed to tell Mike instructions as he progresses through the game. Despite being purple, Nav-Com distinctly resembles R.O.B., an accessory Nintendo bundled with the Nintendo Entertainment System when it launched.
Ad blocker interference detected!
Wikia is a free-to-use site that makes money from advertising. We have a modified experience for viewers using ad blockers

Wikia is not accessible if you've made further modifications. Remove the custom ad blocker rule(s) and the page will load as expected.