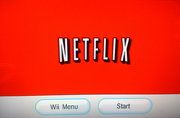 Netflix is a rental company based in California. Online, people can order DVDs and BluRay movies and stream thousands of films over the internet. In January of 2010, Nintendo announced that they were partnering with Netflix so that Wii owners could stream movies on their console to watch on their television by ordering a disc from Netflix. In October of 2010, it was announced that Wii owners could get the Netflix Channel for free using the Wii Shop Channel without using discs. In order to watch movies, users must have a paid subscription to Netflix.
On July 14, 2011, Netflix became available on the eShop for Nintendo 3DS, allowing users to watch movies on the handheld. However, the movies are currently not in 3D.
Netflix is also available for use on the Wii U.
External links
Ad blocker interference detected!
Wikia is a free-to-use site that makes money from advertising. We have a modified experience for viewers using ad blockers

Wikia is not accessible if you've made further modifications. Remove the custom ad blocker rule(s) and the page will load as expected.