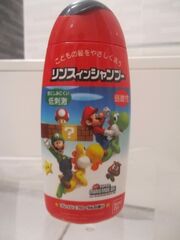 New Super Mario Bros. Wii Shampoo is a Bandai-manufactured, Nintendo-licensed product released exclusively in Japan alongside the Wii video game New Super Mario Bros. Wii. Featuring characters from the game on the bottle, such as Mario, Luigi, two Yoshis (green and yellow) and a Goomba, the shampoo is labeled as "rinse in shampoo" and its scent is "Fresh Floral".
External links
Ad blocker interference detected!
Wikia is a free-to-use site that makes money from advertising. We have a modified experience for viewers using ad blockers

Wikia is not accessible if you've made further modifications. Remove the custom ad blocker rule(s) and the page will load as expected.