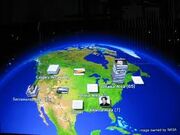 The News Channel was a channel available on the Wii console that lets users view news articles for free using the internet and the WiiConnect24 service. The News Channel is constantly updated every day.
The News Channel is made for the living room, and so font size and certain other settings can be changed.
Like the Forecast Channel, the News Channel features a 3D, rotatable model of the Earth that can be used to find news headlines around the world.
Ad blocker interference detected!
Wikia is a free-to-use site that makes money from advertising. We have a modified experience for viewers using ad blockers

Wikia is not accessible if you've made further modifications. Remove the custom ad blocker rule(s) and the page will load as expected.