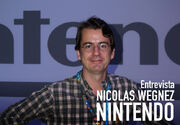 Nicolás Wegnez is the marketing director of Nintendo Ibérica. In 2010 he assisted in getting Nintendo to distribute No More Heroes: Desperate Struggle in Spain. Wegnez is best known for making Art Academy into a massive sensation in Europe. He later came up with the idea of sharing images in Art Academy: Lessons for Everyone!.
Ad blocker interference detected!
Wikia is a free-to-use site that makes money from advertising. We have a modified experience for viewers using ad blockers

Wikia is not accessible if you've made further modifications. Remove the custom ad blocker rule(s) and the page will load as expected.