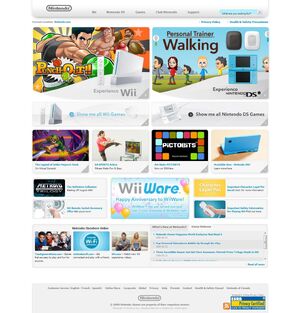 Nintendo.com is the main Nintendo website in North America. Ever since 1997, this site has been changing dramatically.
Features
Nintendo.com contains many features such as pages for all the major game systems, game videos and flash games, as well as a Code Bank and Master Gaming List. In addition, the site includes a Community element which allows users to sign up and become Club Nintendo members for features such as game registration and access to forums. The most recent addition is Play Nintendo, a website with small kid-friendly printouts, videos, and games based on game franchises like Mario, Zelda ("toon" version), and Captain Toad.
Forums
Nintendo added forums to the site in late 2003, which were shut down a few years later. There were boards for all the major Nintendo systems and franchises, as well as boards for Nintendo Wi-Fi Connection games and a set of Nintendo Power boards for fan reviews, fan art, fan fiction, and general gaming-related discussion.
External links