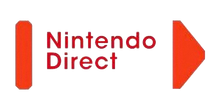 Nintendo Direct is a special stream by Nintendo dedicated to news about the latest and upcoming games for Nintendo systems.
History
List of Nintendo Directs
The ones without parentheses are worldwide except for South Korea. Only when they mention South Korea are they shown there.
2011
October 21 Direct (Excluding Europe)
December 27 Direct (Japan Only)
2012
2013
2014
2015
2016
2017
Trivia
Ad blocker interference detected!
Wikia is a free-to-use site that makes money from advertising. We have a modified experience for viewers using ad blockers

Wikia is not accessible if you've made further modifications. Remove the custom ad blocker rule(s) and the page will load as expected.