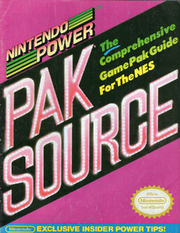 The
Nintendo Power Pak Source
was a complete directory of all
NES
game paks released up until
1990
. It was published inside
Nintendo Power
magazine's
volume 11
in
1990
.
In order to remove the book without damaging the magazine, the reader had to bend back the silver staples, gently pull the book out, then bend the staples back into place.
About the Pak Source
The 36-page book had the game listings divided up by categories: Sports, Family, R.O.B. games, Educational, Light Gun games, Arcade, Adventure, Role Playing, Power Pad games, and Action games.
Each game entry had two screenshots, a short game description, a rating of the game, release date, and a quick, helpful tip about the game. Some of the highest rated games included Bases Loaded, Mike Tyson's Punch-Out!!, Mega Man 2, Metroid, Super Mario Bros. 2, and Double Dragon.
See also
Ad blocker interference detected!
Wikia is a free-to-use site that makes money from advertising. We have a modified experience for viewers using ad blockers

Wikia is not accessible if you've made further modifications. Remove the custom ad blocker rule(s) and the page will load as expected.