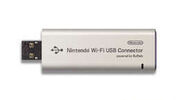 The Nintendo Wi-Fi USB Connector is a device that plugs into an open USB port on a computer, and allows the Nintendo DS and Wii to access Nintendo Wi-Fi Connection through it. This device is not needed if you already own a Nintendo Wifi capable wireless router. The device is only compatible with Windows XP and Vista, with a broadband internet. Nintendo stopped making the connector because of computers or firewalls blocking some of the programs, which means that it's not supported on Windows 7, 8 or 10.
Games that Support the WiFi Connector
Ad blocker interference detected!
Wikia is a free-to-use site that makes money from advertising. We have a modified experience for viewers using ad blockers

Wikia is not accessible if you've made further modifications. Remove the custom ad blocker rule(s) and the page will load as expected.