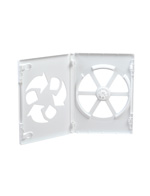 The Nintendo Wii Game Case Was Desinged to Hold one Wii Game Disk, Game Instruction Booklet, and other little sheets of paper.
Info:
"This plastic case containsno recycled material and may not be recyclabel in your area"
-Wii Game case
a sigle, set of five, or set of ten, Wii Game Case Can be perchesed at Nintendo's Online store here
Trivia
Unlike other Game cases Nintendo made, the Wii's does not show a Model number.
A red version of the case is used for Super Mario Games
Ad blocker interference detected!
Wikia is a free-to-use site that makes money from advertising. We have a modified experience for viewers using ad blockers

Wikia is not accessible if you've made further modifications. Remove the custom ad blocker rule(s) and the page will load as expected.