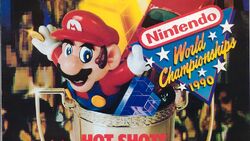 Nintendo World Championships 1990 was a competition between the top scorers of the PowerFest 1990 events. The competition kickstarted off in Dallas, Texas on March 8 and went on until the December 7 finals in Los Angeles, California, touring a whooping 29 cities within the United States, and accounting for one of the largest gaming competition at the time. The Game Paks used in this event were later given away to the finalists who competed, and are one of the most sought after Nintendo collectibles. It was followed by the PowerFest 1994 events four years later.
Ad blocker interference detected!
Wikia is a free-to-use site that makes money from advertising. We have a modified experience for viewers using ad blockers

Wikia is not accessible if you've made further modifications. Remove the custom ad blocker rule(s) and the page will load as expected.