Widgets
are downloadable little programs for your Dashboard on Apple computers. The following is a list of widgets that are related to
Nintendo
.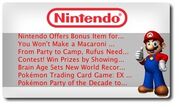 Nintendo News Widget - A widget that shows all the recent information from the official Nintendo of America and Europe website.
Lakitu - A sprite of Lakitu holding a stop sign. If the stop signs on Red, then your Nintendo Wifi Connection won't work, if it's in the middle, it will work, but not great. If it's green, then it works fine.
N-Planet Widget - Shows recent news from the Brazilian Nintendo news website.
IGN Complete - Shows all the recent news from IGN.
Moby Games Widget - Type in a game and Moby Games will find information on it.
Ad blocker interference detected!
Wikia is a free-to-use site that makes money from advertising. We have a modified experience for viewers using ad blockers

Wikia is not accessible if you've made further modifications. Remove the custom ad blocker rule(s) and the page will load as expected.