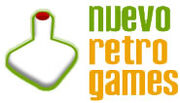 Nuevo Retro Games is a video game developer founded in the city of Salem, Massachusetts but now resides in Gig Harbor, Washington. They have cooperated with the nearby Nintendo Software Technology and Nintendo of America on the Nintendo DS video game Crosswords DS (Nintendo presents: Crossword Collection in PAL regions).
List of games
External links
Ad blocker interference detected!
Wikia is a free-to-use site that makes money from advertising. We have a modified experience for viewers using ad blockers

Wikia is not accessible if you've made further modifications. Remove the custom ad blocker rule(s) and the page will load as expected.